Leading Through Excellence & Innovation 2018
March 5 - 8, 2018. Melbourne, VIC.
Purpose Driven Operational Excellence
Held from the 5 to 8 March 2018, at William Angliss Conference Centre in Melbourne, the conference brings together a select group of international and national speakers, who are leaders in their profession, have achieved significant results or have an innovative approach on how they are taking their Lean journey.
An AME conference provides you with the opportunity to develop new relationships by connecting and learning from and with the best. You will discover practical ways to apply creative ideas to your organization. Build, recapture and rejuvenate your sense of purpose. Expand the depth and breadth of your knowledge. Sharpen lean skills, intensify your understanding of lean tools and learn how to integrate industry practices into your organisation. Learn about best-in-class practices, compare your experiences to the most successful businesses and make sure your continuous improvement efforts are on target.
An AME conference is focused on helping you to realise your purpose and create a lasting change within and outside of your organisation.
When Organisations succeed, it's because the know what to do - their mission, how to get it done and why they do it.
In order to truly achieve excellence, your company must clearly define the why – as in your purpose for being an organisation. It's a strong sense of purpose and a commitment to drive toward achieving that purpose that will help you grow and flourish. All strategies and lean efforts flow directly from that one crucial element; Purpose. Regardless of the size of your organization, the service you provide, or the product that you produce or manufacture, there is a purpose driving the company. An organisation that embarks on a journey of purpose-driven excellence recognizes that in order to succeed, it needs to embody a clear reason to exist beyond the pursuit of profit. Companies that work toward their purpose have a clear advantage over others.
AME's Leading Through Excellence and Innovation Conference is centered on helping you to realise your purpose and to create a lasting impact within and outside your organisation. Start with a laser focus on your purpose, and a commitment to creating a cultural environment in which people can realise their gifts, develop and apply their talents, and feel a genuine sense of fulfillment for their contributions in pursuit of that purpose, and you will succeed on your path to enterprise excellence. Come to Melbourne to share, learn and grow, and to build a network and form relationships that will last well beyond the conference.
Keynote Speaker: Ron Harper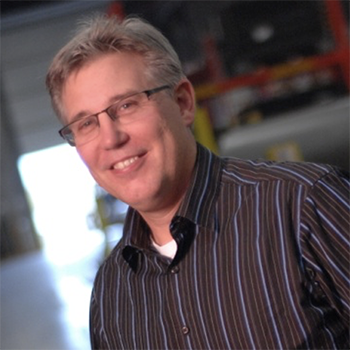 Ron Harper, P.Eng., is president of Cogent Power Inc., in Burlington, Ontario, Canada. He has worked in manufacturing for 25 years, mostly in senior leadership positions in marketing, engineering, operations and general management and has been with Cogent since 1995. The organisation has been on its lean journey since 2004, and Harper has taken a highly personal role in leading the company and its teams to create a self-propelling lean organisation and culture.
Harper is a member of the AME executive committee and the Canadian regional board. He is also a highly active board member of The Centre for Skills Development and Training, in Canada, the Ontario Centres of Excellence (OCE), and regularly advises on local government policies and initiatives with Next Generation Manufacturing. As part of the AME board of directors, Harper is a leading member of the strategic initiative for People-Centric Leadership. This movement is intended to educate leaders to engage and lead teams in a manner to maximise job satisfaction and fulfillment, while creating significant value in business.
Keynote Speaker: George Saiz
George Saiz is president and CEO of the Association for Manufacturing Excellence. A practitioner and strong proponent of lean and continuous improvement since 1992,he is excited to help AME grow its footprint, and to promote enterprise excellence and people-centric leadership among the next generation of manufacturing leaders. Saiz previously served as president of MicroAire Surgical Instruments, LLC.
During a career spanning more than four decades, Saiz worked for a number of medical device manufacturing companies in increasing roles of responsibility from manager, director, general manager, vice president, owner and president. He has significant experience in leading complex organisations and generating growth in sales and earnings. Saiz earned his master's degree in business administration at the University of La Verne in La Verne, Calif., and his bachelor's degree in business administration from West Coast University in Los Angeles, California.
4 Keynote Speakers
We have gathered world class keynote speakers who will inspire your journey to enterprise excellence.
8 Practitioner Presentations
We showcase industry leaders who are articulate advocates for change and will present to you how you can achieve the change you seek.
4 Best Practice Tours
Visit industry leaders' facilities so you can see what really works. We make sure you get to see "hands-on" tools and skills.
4 Special Interest Sessions
Hear what others are doing, share and learn best practices, ask questions, dig deeper and network with fellow participants.
2 Workshops
In-depth post- conference workshops provide attendees solid, lean, practical thinking.
"This event is not to be missed by anyone seeking to improve and grow their business."
"I gained a great deal of insight into Lean and its implementation in various manufacturing and other organisations. I can certainly apply the learnings to my sector."
"Excellent conference. This is my first AME conference and not my last."